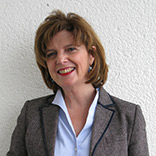 Catalyst – Paquita was formerly European COO of a fast growth European software company, Cultural Strategy Manager to the fastest growing city in Europe, a Regional Director for Economic Development and in Germany was part of a five person Rapid Growth Team with Hewlett Packard. In this role she led global IT infrastructure projects and also developed the Go To Market Stategy for the department.
From experience in both public & private sectors she effectively designs winning project proposals and restructuring.
Working with industry leaders Paquita developed sector strategies for petrochemical; biotechnology; transportation, logistics and shipping; ITC; creative industries; plantation forestry; organics; dairy; food and tourism. She is known for creative approaches to restructuring and new business development and for inspiring those with whom she works. A native Australian recently returned to England after living in Germany, Paquita has also lived and worked in Canada, England and the USA, with project experience in the United Arab Emirates, Doha, France, Indonesia, Italy, and Finland.
Paquita is a traveller who delights in capturing the character of a place, as seen on her website discover-interesting-places.com.Paquita
is a popular public speaker, has had her own drive-time radio show, worked in a Forensic Pathology Office, been a rally driver, and organised a visit by Her Majesty, Queen Elizabeth, & Prince Philip.